DJ Dave Productions is an Award Winning Mobile DJ Entertainment & Lighting Production Company. We are wedding specialists that are recognized as one of the top Houston Wedding DJ Companies. We are unique in that we provide a very personalized, professional, hands-on service that is customized specific to each individual client to make their special day be fun, exciting, memorable, and reflect their individual personality and style.
When you hire DJ Dave Productions you get one of our professional experienced DJ's/Master of Ceremonies which will provide your custom entertainment, and lighting services. Our clients just love our On-Line Planning Account System where our couples can plan their entire wedding day from start to finish with our simple, easy, and intuitive planning system. This allows each client to organize a specific plan that will reflect each client's individual personality and taste. We will help to coordinate every little detail of every wedding and reception. We provide a very personalized, professional, hands-on service that is unique and customized specific to each individual client to make their special day be fun, exciting, and memorable.
We offer a very personalized Houston Mobile DJ Service to meet your
needs. Although the music is a very important aspect of the event with regard to a wedding, we believe that the bride and groom are the focus of the evening, not us. We meet with our clients to discuss all relevant details for their particular event. We will make your wedding run smooth and coordinate all aspects of the evening with party center staff leaving you to enjoy your special day.
"We Create Unforgettable Memories!"
"Your Day-Your Way!"
"Turn Up Your Entertainment!"
We DJ Houston Wedding Ceremonies, Wedding Receptions, Wedding Anniversaries, Corporate Events, Private Parties, and Birthday Parties in the greater Houston area.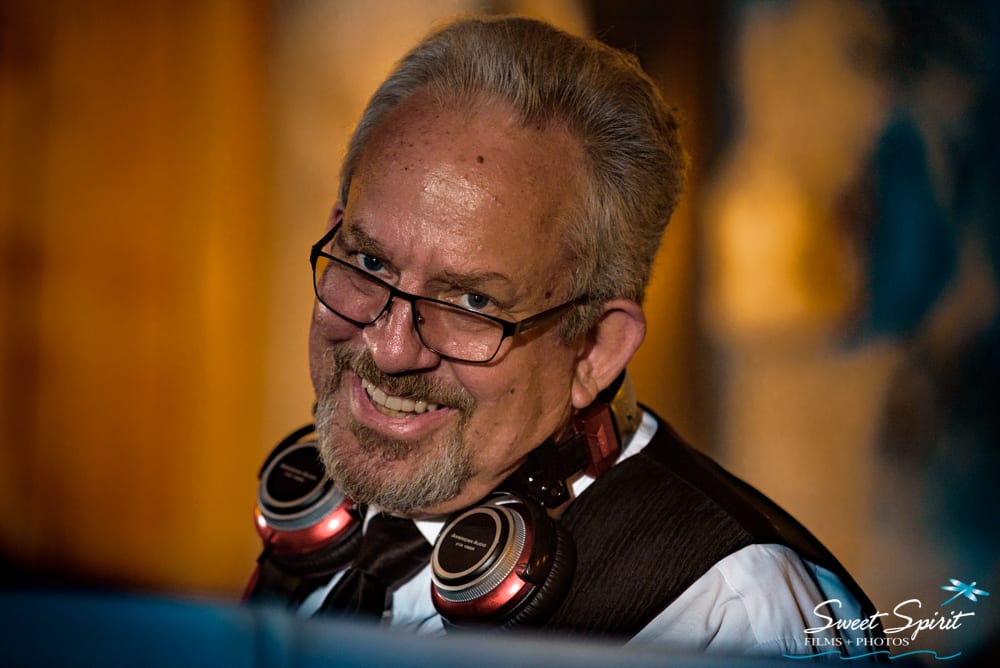 DJ Dave
David Petry is the co-owner and founder of DJ Dave Productions. DJ Dave is a positive minded, fun loving person that has an incredible passion for success. Prior to starting DJ Dave Productions, Mr. Petry specialized in Sales and marketing working in executive level positions managing Nationwide Sales organizations. He always knew that he wanted to do something in the music/entertainment industry and his experience lead Mr. Petry to be a natural successful leader. As fate would have it, he ended up creating an incredible entertainment company. From the early years, David has been playing music, first the guitar and then switched to bass guitar. David has played in several bands and recorded several different albums in the studio with "The Rafters". David has an insatiable love and passion for music. This love and passion for music led David down a natural path to become a professional DJ over 12 years ago. He is living his life dream and absolutely loves what he does. This is the most rewarding occupation he could ever imagine, and also finds it very satisfying to make people happy, and create memories that they will never forget. His wife, Janet, is his partner and together they make an incredible dynamic team for their clients.
Recent Review from a wedding client:
(Dave!!!! We are on our honeymoon but I had to sneak away to write you! Thank you from the bottom of our hearts for everything! YOU ARE AMAZING!!!!! Everyone loved you and gave us so many compliments on how amazing you were. Thank you for making our wedding what it was. It truly was an honor to have you. ❤❤❤ Alyssa & Garrett Pinkham, married 8-4-17)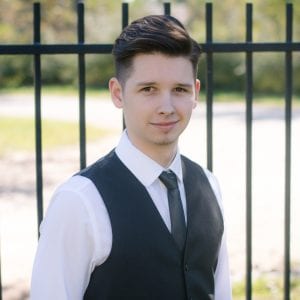 DJ Nick
With a musician foundation, Nick is a passionate DJ and MC. He loves to interact with crowds and make any and every event fun. Nick is one of the younger professional DJ's you will meet, but don't let his youthful face fool you, Nick loves to play disco, funk, 80s, 90s and many other genres which also include modern music. Nick always gives 100% effort and truly desires to help you throw the greatest celebration during your event! If you are to have any last minute changes to the wedding, Nick is surely able to adjust to the circumstances and the situation. Just like Tom Cruise in Mission Impossible, Nick is able to roll with the punches. Choosing Nick as your DJ will ensure you have a phenomenal time!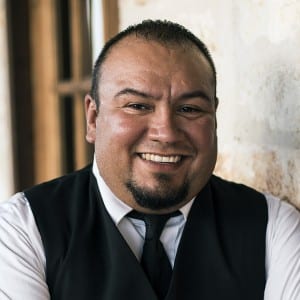 DJ Ish-Bilingual
Born and raised in the Rio Grande Valley in Mercedes, TX, but Houston bound in 1994 where I now raise my 3 beautiful children, two boys and one girl – that's my Princess. In April of 2015 I married my lovely wife, Ashley, where DJ Dave performed at my wedding. This is where my interest in becoming a DJ developed. My love for music stems from the Old Fashioned Texas Country and Old School Hip Hop and I found my inspiration within an old quote from Sir Thomas Beecham – "Great music is that which penetrates the ear with facility and leaves the memory with difficulty. Magical music never leaves the memory."
Safety Coordinator is my full time occupation, but coaching youth football has been my full time passion for nine years. I love watching and participating in any sport around and I'll cheer for my favorite Houston teams in both English & Spanish. I also actively participate in the Houston Livestock Show & Rodeo where I have been a member for 8 years and the Captain for the past 3 of them. I'm fun all around guy that loves music and all of my hobbies. I enjoy outdoor activities with my family and friends. I'm outgoing in everything I do I strive to do the best in every aspect or activity I'm a part of. The place I call home is in Katy where I spend all the rest of my time with my Beautiful Wife, my Sweet Princess, and my Two Precious Knuckleheads.
It's not every day that someone gets the lucky opportunity to be involved with such a recognized DJ, and it is my distinct honor to represent DJ Dave Productions to its full potential in providing each event with some fun music to make great memories. I think my fun personality and knowledge of music will help electrify the crowd. I'm looking for those "that's my song" to "wow I haven't heard this in forever" moments to happen at all the events I am a part of. There must be some shaking, jiving, and out right silly shenanigans to make the night memorable, and I will do everything within my musical knowledge to provide that experience for everyone around. I love to read the crowd, see smiles light up, and have some of that head bobbing, toe tapping going on. Let's shake it until they shut the lights out!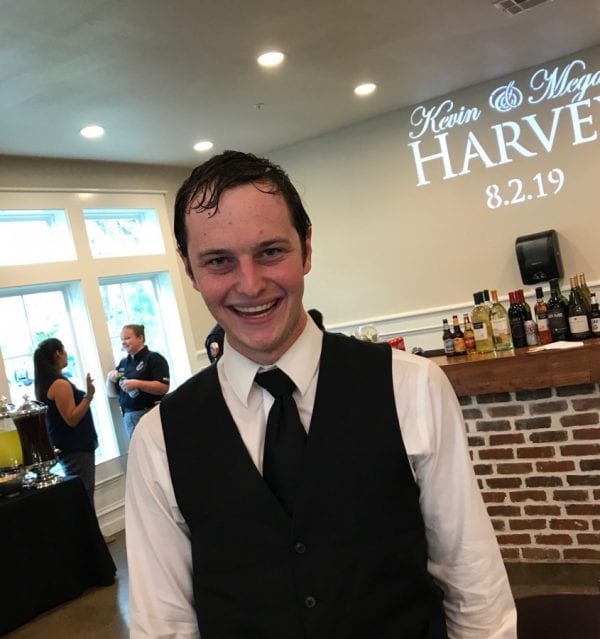 DJ Paul
Moving from sunny California, Paul started DJing in high school, spinning for school dances, holiday parties, Quinceañeras, and even on the school bus. When he moved to Houston in 2014 to attend Rice, he soon began performing at wild college parties every weekend, choosing to major in Electrical Engineering because he loved the technology behind DJing and wanted to learn more. Today, Paul is a PhD student during the day and a DJ at night, playing at weddings, nightclubs, and events all over Houston. In particular, he loves DJing Weddings because he sees each as a wonderful night where two families come together. With guests of all ages coming from many different backgrounds, Weddings allows Paul to play many genres and eras of music in a single night. His professionalism, enthusiasm, and love for all music matched him with DJ Dave Productions, and he is excited to be part of such a wonderful team. Additionally, his background in performing arts and music production allow him to be an enthusiastic (but not cheesy) MC, a skilled lighting designer, and a capable turntablist. Paul loves feeding off the energy of the crowd and making people dance. Choosing him as your DJ will guarantee an exciting, energetic, and unforgettable night!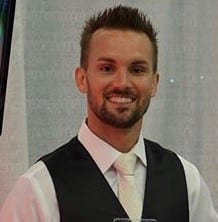 DJ Ron
From the "Birth Place of Texas" DJ Ron grew up in Deer Park as an avid musician and athlete. He played the trumpet through school while learning the electric guitar through the local church band. In 2008 he began to DJ large and intimate weddings, while catering directly to what the bride and groom want rather than "what style the DJ likes." His experience and reputation grew as he continued to DJ weddings while achieving his pilot license for fixed wing aircraft. DJ Ron brings a diverse personality and dynamic to the wedding industry. DJ Ron felt a responsibility to the local community to serve as a Houston Police Officer. With six years of experience since 2011, he always jokingly told his friends that being a DJ was his primary job, and being a police officer was a side gig. He has always been in trustworthy roles through highly respected professions and he has never failed to create the custom wedding experience that every Bride and Groom fall in love with. His moto is "music creates atmosphere." He believes that through the poise and appearance of the DJ as well as the music selection and ability to read a crowd, he can create any kind of atmosphere that you desire. You can chose every single song that you wish and have him mix in order, or if you would rather give details and genres that you like, he is good at selecting the music for you so that everything is stress free. With DJ Ron, you will have seamless announcements, transitions with music, events of the night, and a high energy dance atmosphere!